Description
Technical Specifications: 
Power: 10.5 W Input Voltage: 120V (Connects directly to power supply via provided UL recognized driver)
Luminous Flux: 750LM
Emitting Color: 3000K(Bright White)
Dimmable: Yes
Light Source: LED
CRI: 80
Surface Size: 4.7 inches
Back Hole Size: 4 inches Dimension: 4.7 x 4.7 x 1.1 inches
Light direction: Downlight
Average life: 36,000 hours Warranty: 5 years
Limited Electrical: Plenum rated cable connector to connect from module to remote driver box. Isolated driver integrated inside steel remote box with four 7/8″ knockouts with slots for pry-out
Meets Highest Industry Standards: ETL certified in the USA and Canada, IC Rated, Wet Listed and Air Tight More electrical information and complete list of compatible dimmers are located on spec sheet
How many LED lights do I need for the room?
Wafer 4 inch: One unit is needed for about every 1.5 sq feet in an 8 ft ceiling room 3 units for a room ranging from 5 sq ft ? 8 sq ft 6 units for a room ranging from 9 sq ft? 11 sq ft 9 units for a room ranging from 12 sq ft ? 14 sq ft
Which light colors work for me?
3000K: Used in family homes, hotels, coffee shops and other warm and sweet environments
4000K: Used in homes with a need of a soft white lighting atmosphere
5000K: Used in offices, working areas, shopping malls and other commercial areas that needs super bright lighting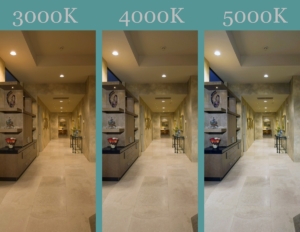 Application Areas: Ideal for new construction remodels or retrofit installations. Closets, attics, hallways, bathrooms, kitchens, basements, soffits, entryways, porches, garages Stairwells, corridors, nursing/retirement homes, condos, elevator
EASY AND SAFE INSTALLATION – MADE IN THE USA! Innovative, slim design allows for easy retrofit, remodel or new construction installation from below the ceiling. Only need 2″ clearance for install
HIGHLY RATED FOR MULTIPLE LOCATIONS – ETL, IC, Airtight and Wet Location listed make LED Wafer ideal for indoor and outdoor residential, hospitality, commercial and multifamily applications and safe to contact insulation
EXTREMELY BRIGHT DIMMABLE LEDs use 9.6 watts to provide 675 lumens with an 80 CRI, almost 70 lumens per watt. Dims down to 10% and compatible with select Lutron, Levitron, Synergy and Sensor Switch dimmers
ULTRA THIN LED design only requires a 4.2 inch ceiling hole and 2 inches of ceiling space are needed to fit LED wafer recessed light and UL recognized driver
SAVES MONEY AND TIME changing bulbs – provides high light output with minimal power usage and will last 36,000 hours or +16 years when on every day for 6 hours/day

SKU: 

CLY4-30K/WH
Installation Guide:
1. Double check and measure the ceiling hole.
2. Open the cover of the remote driver box. Push and remove one of the knockouts on the side plate.
3. Connect the remote driver box to the light fixture and tighten nut connector.
4. Place remote driver box through the cut-out hole.
5. Pull the spring clip on the fixture up and through the ceiling hole. Place module in the hole
6. Turn the power on. Housing Height- 1.1 inches.
Installation guide for kit included in the package.